---
Dine with Spirits – Spiritual Members Club
Dine with Spirits is a Spiritual Members Club set up by Alison Cassidy and Dawn Exley.
It is open to both men and women, 18+ who have an interest in spirituality.
Whether you are at the beginning of your spiritual journey or are established on your path, Dine with Spirits will allow you to meet new friends, learn about different topics and network with like-minded people.

Why join 'Dine with Spirits'…
Private spiritual members club connecting like-minded men and women of mixed ages.
It is affordable to everyone – good value for money.
Our speakers have personality, knowledge and enthusiasm about their specialist subjects.
We ensure that the food and service at our events are of high quality.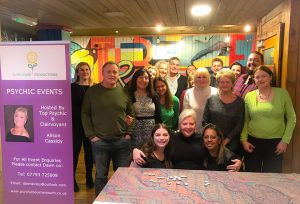 Benefits of being a 'Dine with Spirits' Member:
10 minutes free when you book a 30-minute or 60-minute reading with Alison Cassidy (limited to 2 readings within a year)
Discounted price for 'Dine with Spirits' events
£15 off an Alison Cassidy workshop
20 minutes free when you book a 2-hour Alison Cassidy Spiritual Business Consultancy (limited to 2 Spiritual Business Consultancy's within a year)

Testimonial

"Alison's abilities are second to none! I had no experience or expectations when I arrived for my reading and I was dumbfounded by her accuracy in so many aspects of my life. She also took me back through my previous lives as far as 1645 and what she told me actually matched my Ancestry DNA results exactly! In addition to her abilities, she is also a warm, friendly and entertaining character. I thoroughly enjoyed my reading and also her Dine with Spirits event… can't wait for the next one!"

Angela Gray
About Alison Cassidy MPLTA/DPLT:
Alison Cassidy has over 22 years' experience of being a Psychic Medium. She is a Clairaudient, Clairvoyant, and Clairsentient. She reads through her guides Nandif and Melisua and Arch Angel Gabriel. Alison doesn't need any tools (like tarot cards) to give readings, she links to you through the vibrations of your voice, which enables her to focus on what is happening with precise detail and accuracy.
Alison is also a teacher in her field. She practices Regression, Past Life Therapy, and Hypnotherapy. She aims through her knowledge, care, and insight to help you take positive steps forward.
Alison is a member of the Spiritual Members Association in the United Kingdom and is dedicated to following the guidelines. She has also been accredited by The American Society for Standards in Mediumship and Psychical Investigation.
"A good psychic does not need any tools to give readings." Alison Cassidy
Alison's Services:
Spiritual Guidance, Spiritual Counsellor
Psychic, Medium
Clairvoyant (see spirit), Clairaudient (hear spirit), Clairsentient (sense spirit)
Tarot / Runes, Numerology
Cartouche, I Ching, Astrodice (Astrology)
Wiccan (spells), Candle Magic (changing energy for magic)
Crystal Ball, Palmistry
Angel Guidance, Aura's, Flower Therapy
Ghost-Busting (House Clearance)
Past Lives, Regression/ Hypnotherapy
Crystal Healer/ Crystal Therapist
Sunflower Productions Psychic Events
Sunflower Productions Psychic Events is an event company set up and run by Alison Cassidy and Dawn Exley.
Facebook page: https://www.facebook.com/SunflowerProductionsPsychicEvents/
Sunflower Productions Psychic Events hosts the following events:
Psychic & Holistic Fairs
Dine with Spirits – Spiritual Members Club
Spiritual Business Consultancy
Psychic Academy – offering workshops
Private Functions / Psychic Nights / Hen Parties
Annual Halloween Dinner
Ghost Hunting
Here are a few quotes from the night, these can be found on the website (under latest news) An Evening of Tarot & Mediumship with Alison Cassidy:
"Alison, thank you so much for a fabulous evening! What a great idea to dine too! this makes this a relaxed atmosphere and also to meet some great people. We all had readings too and all so precise which was incredibly moving and great value and the food at street was lovely too. Can't wait in till the next event." Sarah 
"Great night, great venue, great food. Had an amazing evening Dining with the Spirits. Looking forward to the next event. Thanks, Alison you have such a talent." Tania
"What an amazing evening. I didn't quite know what to expect but, I was very excited and a little nervous too. Excellent tarot readings for each individual and how accurate the readings were as could tell by looking at everyone's faces. I was completely shocked when Alison connected with my grandma and the stuff she told me about my dad, my family, my mom's jewelry. Alison was spot on and I was sat looking at her in amazement at how accurate she was. The message Alison gave me from my grandma was breathtaking and I was quite emotional that my grandma came through. I have never experienced anything like this, although in the past I have seen many clairvoyants but not like Alison. Alison has an amazing talent and above all, she is an amazing lady. I can't wait for the next evening and the food at Street Restaurant was delicious. Thank you for a great evening Alison – Sandy xxx"
"A brilliant evening with a brilliant lady! Being in the presence of Alison makes anyone's life that little bit better. Lots of different experiences with tarot, readings and open floor questions. A perfect evening and amazing food at Street restaurant. Tiffany"
Testimonials
Find out what my clients think
Call 07837 454561 or book online